The last few weeks have been a bit different for me. It is all to easy when you have been doing the same thing for getting on 20 years to think that you know it all. I mean you keep up with new trends and technology, but you know all the basics backwards don't you? Well it turns out you don't.

In an attempt to move beyond the confines of the office and look past the jobs I'm currently working on - one day they will be finished - I enlisted myself on some courses.

The first is a course on Pitching and Developing Documentaries. I received an email from InSIght late on the Friday afternoon saying the course started on Monday and signed up right away. And a truly positive experience it has been.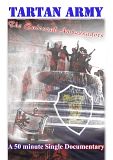 Now back in the Accidental Film Company days, we proposed a Tartan Army documentary to every broadcaster we could think of. We got nice replies from some and more equivocal responses from others - Channel 4 were lovely though Stuart Cosgrove, Head of Nations and Regions less so . But the shock of the rejection was hard to take, so sure were we that our big thick document had covered every possible area the documentary could encompass, had told the full story and laid out all the interviewees we had lined up.

It took about 5 minutes of the first session to find out where we had gone wrong. Why had no one told us before that commissioning editors only want a paragraph about the documentary? How had we not considered that as they would have numerous pitches arriving every week, a 43 page document might get put to the bottom of the pile?

By the end of Week 1 the class had distilled ideas down to a single sentence. The aim clear; to provide a commissioner with an eye-catching, hook to inspire them to want to find out more. It was only in Week 3 that the writing of a full proposal was covered, and surprise, surprise even here the Tartan Army document was ridiculously overblown. The norm is 2 pages! So much paper and ink wasted.

The final part of the course is tonight and as I have already stated it has been a tremendously worthwhile experience. The tutor/teacher/expert Andrea Paterson is knowledgable, witty and engaging and has been positive throughout with a class ranging from me, at the gnarled, cynical old-man end to the young, green, dynamos at the other extreme.

So I learnt that the conventions of pitching documentaries were very different to those we practice everyday in pitching commercial and corporate jobs, where detail is not just welcomed but totally necessary in showing the client that you understand the brief and can deliver a programme that will convey all the right messages to the right audience. But understanding that, I obviously had nothing to learn about standard marketing. Wrong again.

Having moved the offices into Enfield, I decided to take advantage of the opportunities offered by Enterprise Enfield to meet with other businesses from the borough and the first event offered was a seminar on marketing.

Sitting on the chair with the moveable wooden desk arm, I was instantly transported back to the Media School in Bournemouth some 20 years ago. I sat confident that I would know everything that would be said during the day. I had been there, learn it once, topped it up everyday and knew everything. But once again I was sadly misguided. Of course I knew much of the theory, I put much of it into practice in projects for our clients, but throughout the session little nuggets of information penetrated my al-knowing facade.

By the end of the day, I felt energised and a little bit inspired to change the little details on website, flaws in sales letters and not a little bit of my personal demeanour. I thanked the tutor, Cliff Maxen, again a warm, knowledgeable and positive mentor, and left not only determined to put the day's learning into practice but to look for other opportunities to return to the classroom and learn some more. What the worst that could happen? I could forget some of the trivia that makes me a sought after member of local Pub Quiz teams. Not a bad price to pay.
Posted by Keir Husband